Mitigating infrastructure disaster losses through asset management practices in the Middle East and North Africa region
Abstract

Despite expanding infrastructure investments in developing countries, maintenance of constructed infrastructure is not keeping pace and there is a growing need to focus on the long-term operational demands of new assets to reduce vulnerability. In the Middle East and North Africa (MENA) region, natural hazards and civil conflicts continue to undermine development and disaster risk management. This research sought to examine how infrastructure asset management can reduce the impact of disasters in the MENA region. Twelve interviews were conducted with asset management and disaster risk reduction experts in the MENA region and Australia – the latter to identify transferable asset management best practices. Qualitative analysis of interviews identified regional lessons to advance asset management practice as a disaster risk reduction tool. The four main findings were: (1) asset management practice can be a proactive disaster policy; (2) there is need for appropriate levels asset management policy in the MENA region; (3) asset prioritisation improves the effectiveness of, and decision making in, risk management; and (4) whole of life consideration enables effective planning for asset management practices. In alignment with the priorities of the Sendai Framework for Disaster Risk Reduction, this research provides knowledge to strengthen governance to manage disaster risk in the MENA region. The research further outlines the barriers and challenges that hinder successful asset management policy implementation, as well as proposes recommendations for disaster mitigation strategies using infrastructure asset management.
Potential Industry Impact

A need to better acknowledge that asset management practice is proactive disaster policy, implement appropriate levels of asset management, prioritise assets based on their criticality, and account for life cycle considerations. 

Life cycle considerations are crucial to the asset management process as currently there is a lack of understanding of maintenance costs for the life of an asset.

The infrastructure asset management policy should be viewed as a steppingstone to further developing other disaster risk reduction strategies.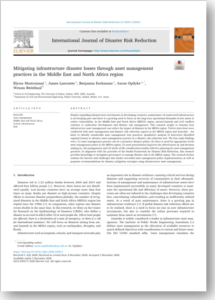 Authors:
Elyssa Mastroianni, James Lancaster, Benjamin Korkmann, Aaron Opdyke, Wesam Beitelmal
Journal:
International Journal of Disaster Risk Reduction, Volume 53 (1 February 2021)
Read:
https://doi.org/10.1016/j.ijdrr.2020.102011
Share:
Engage:
Comments
No comments to show.