Corporate Entrepreneurship as a Learning Process: Development of New Capabilities
Abstract

Corporate entrepreneurship (CE) seems as an insurance against environmental dynamics to let the organization grow by seeking opportunities. The main purpose of this study is to offer a conceptual framework evaluating how the individual level opportunity recognition links to firm-level integration and institutionalization of knowledge bases. This study proposes a conceptualization of CE as a learning process to develop new Dynamic Capabilities (DC) that enables firms to reinvent themselves through innovative ideas. Dynamic capabilities contribute to the managerial cognition to explore new entrepreneurial opportunities; however, no former research has investigated the development of DC through CE process. Building from our analysis of the mechanisms through which the corporate entrepreneurship could influence the development of dynamic capabilities, we apply a multiple case study design to address the research gap. To investigate the research question, four case studies have been selected, through which we examine: a) the association of managerial cognition, as the knowledge foundation of opportunity exploration, to capability development; b) the mechanism of corporate entrepreneurship learning process through discovery, engagement, and transformation; c) the reasons behind ignorance of some entrepreneurial opportunities; and d) the effect of capability development on the corporate entrepreneurship outcomes. We conclude that dynamic capabilities are most beneficial for entrepreneurs to make drastic change by moving further away from sense-making of opportunities to institutionalization of new capabilities. However, our proposed conceptual framework is general and needs to address the deeper interdependencies and complexities. As a result, the proposed framework calls for empirical astuteness and further theoretical development. Derived from two interrelated fields of corporate entrepreneurship and dynamic capability, this study contributes with a novel model addressing how managerial cognition links to entrepreneurial outcomes. By adopting organizational learning view, the proposed framework seeks to capture corporate entrepreneurship as a dynamic ongoing process.
Potential Industry Impact

This research presents a holistic view of the current entrepreneurial learning research and reveal several implications for entrepreneurs and managers. First, it persuades executives to explore how managerial cognition is institutionalized in the firm resulting into various entrepreneurial outcomes (ventures, spin offs, or strategic renewal). Former research (Mostafiz, Sambasivan, & Goh, 2019) investigates the relation between managerial cognition on the foreign market knowledge which effects firm performance. Assuming seizure of entrepreneurial opportunities as the basis of dynamic capability development, our research suggests a novel solution for intuition and interpretation of the individual level cognition. moreover, the integration of knowledge and the involvement of operational capabilities actors, is a strategic choice to achieve the entrepreneurial results.

From managerial standpoint, linking opportunity exploration/exploitation to capability development may suggest new perspective to pursue entrepreneurial behaviour. In case of knowledge exploitation, learning affects new venture's performance (Zahra, Ireland, & Hitt, 2000). Therefore, bridging the opportunity exploration to organizational learning has an important performance implication for entrepreneurs and offers insights to understand why certain business ideas fail to succeed.

The case studies also reveal how innovative ideas and management cognition transform existing capabilities through positive engagement and a problem-solving approach. The role of these entrepreneurial practices contributes to development of dynamic capabilities.

From organizational perspective, the main idea of opportunity recognition and involving in entrepreneurial practices is developing new products, services, and processes through teamwork and engaging everyone in new practices. The model provides insights for entrepreneurship educators to promotes individuals' ability to transform ideas into action.

Other contributions of this study are regarding exploration of new practices and learning under ambiguous condition. This study highlights a key implication; extreme and unique goals which are complex but predictable have a higher chance of being an entrepreneurship outcome. More important, the findings highlight the role of managerial cognitive capabilities as the micro-foundation of DC in the situation of change.
Academic Impact

Although former research has bridged CE and capabilities (Salvato et al., 2009), we shed light on the process of capability development. Moreover, we suggest that the concept of DC has the potential to describe the mechanism of knowledge management and organizational learning at individual and group level.

Considering the two complementary views of positivist and social constructionist (Dutta & Crossan, 2005) let us to bridge the objective nature of external enablers and the sense making efforts of individuals to sustain the organizational competencies.

Our research framework infers the emergence of opportunities from knowledge bases and links it to organizational learning (Shane, 2000a).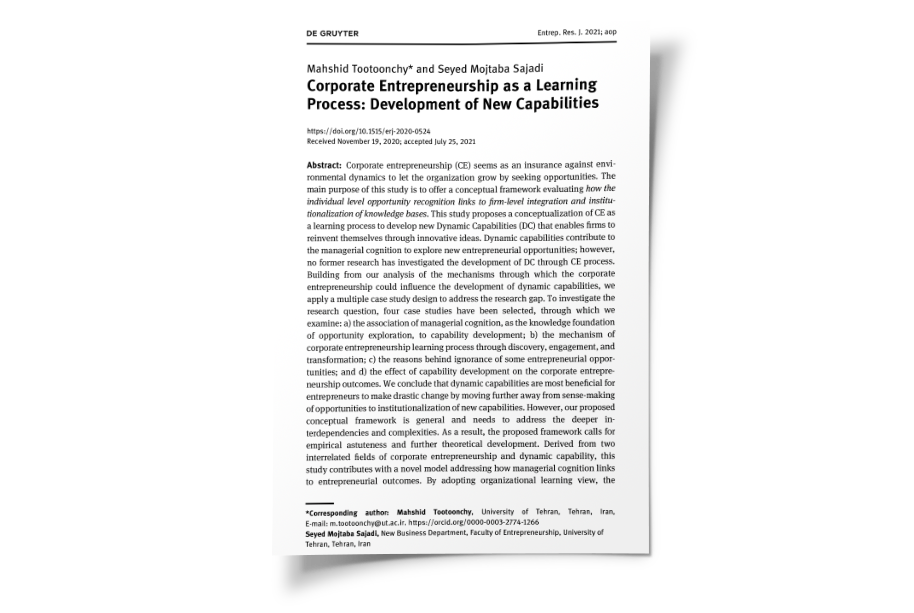 Authors:
Mahshid Tootoonchy, Seyed Mojtaba Sajadi
Journal:
Entrepreneurship Research Journal, Volume 11 (August, 2021)
Read:
https://doi.org/10.1515/erj-2020-0524
Share:
Engage:
Comments
No comments to show.