The impact of women's representation on performance in project-based and non-project-based organizations
Abstract

Project-based organizations face challenges of increasing skill shortages and risks of reducing competitiveness and performance. Leveraging female talent can improve organizational competitiveness and outcomes. Drawing on the resource-based view of the firm and contingency theory, we predict that the impact of women in management on organizational performance will be stronger in project-based organizations than in non-project-based organizations. Using a sample of 932 private organizations and a longitudinal research design, this paper presents pioneering insights into the impact of women's representation on organizational performance in project-based organizations. The results help refine the positive findings of past research and identify the moderating effect of industry type on the benefits of women's representation on organizational performance. The relationship between women in management and organizational performance was positive in project-based organizations. For practitioners, the findings suggest that project-based organizations may need to consider how they increase their innovative capacity and address gender imbalances to capitalize on gender diversity benefits for organizational outcomes.
Potential Industry Impact

Study refines prior empirical research highlighting the benefits of gender diversity, particularly in highly gender segregated project-based organisations where gender-diversity initiatives are relatively limited. This is particularly important and timely as those organisations are currently facing the challenges of skill shortages that affect their competitiveness and performance.

Drawing on study findings, managers may be able to emphasise the potential contribution of more women in management to organisational outcomes and design their workplace gender equality strategies and policies in a way that signals the importance of promoting women to senior roles and to increase women's representation in management.
Academic Impact

Pioneering study providing evidence for the moderating effect of industry type on the relationship between women's representation and organisational performance, highlighting the value of applying a contingency approach to investigating the impact of women's representation on performance and supporting organisational contingency theory.

The study supports the integration of contingency theory with the resource-based view (RVB) of the firm to propose the processes through which women's representation at management level can lead to stronger performance.

The study address a critical research gap: the limited research exploring the importance of gender diversity on performance at the organizational level by showing that gender diversity at management levels can have a significant impact on organisational performance in certain industries, particularly in less gender diverse organizations.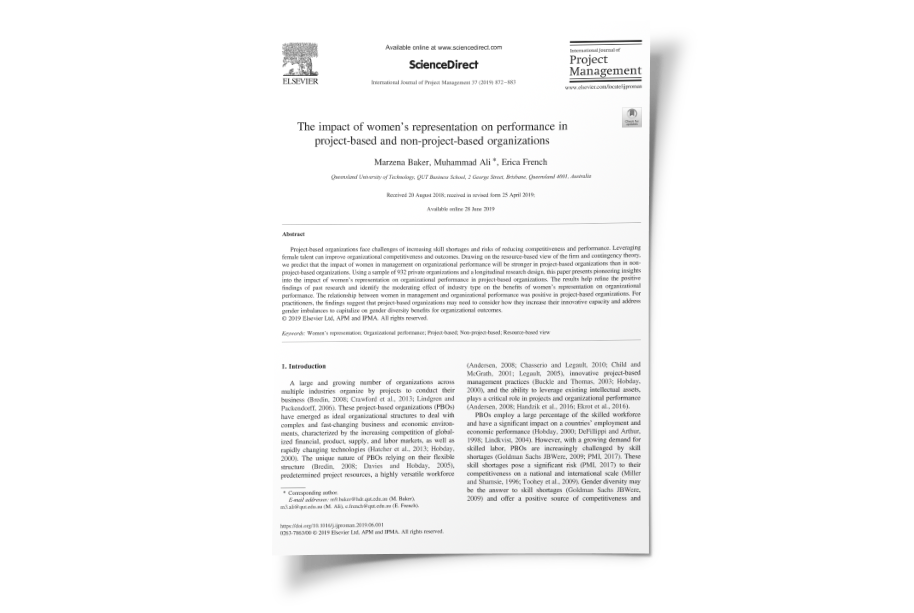 Authors:
Marzena Baker, Muhammad Ali, Erica French,
Journal:
International Journal of Project Management, Volume 37, Issue 7 (October, 2019)
Read:
https://doi.org/10.1016/j.ijproman.2019.06.001
Share:
Engage:
Comments
No comments to show.