Testing the impact of targeted team building on project team communication using social network analysis
Abstract

Communication and teamwork are key determinants of whether a project will be delivered successfully. Team building is often used as a way of improving patterns of team interaction. This research tests the impact of a standardised and repeatable team building protocol on communication in a project team. It builds on the theory that increasing the interconnection within a team communication network will lead to enhanced project outcomes. A longitudinal Social Network Analysis approach was used to diagnose the patterns of communication in a project team, inform planning of the team building intervention, and test the impact of the intervention on team communication. Over a three-month period, the team building resulted in a significant change to project team members' comfort discussing personal matters, and the frequency with which they discussed personal and work-related matters.
Potential Industry Impact

Project teams are expected to start delivering results very quickly, even though many people haven't worked together previously. This research tested targeted relationship development and rapid communication using social network analysis to understand communication gaps within the groups.

The approach can be easily rolled out to other organisations.

Project teams can use themselves for building communications where communication doesn't exist.
Academic Impact

A completely novel application of Social Network Analysis to understand longitudinal change in communication.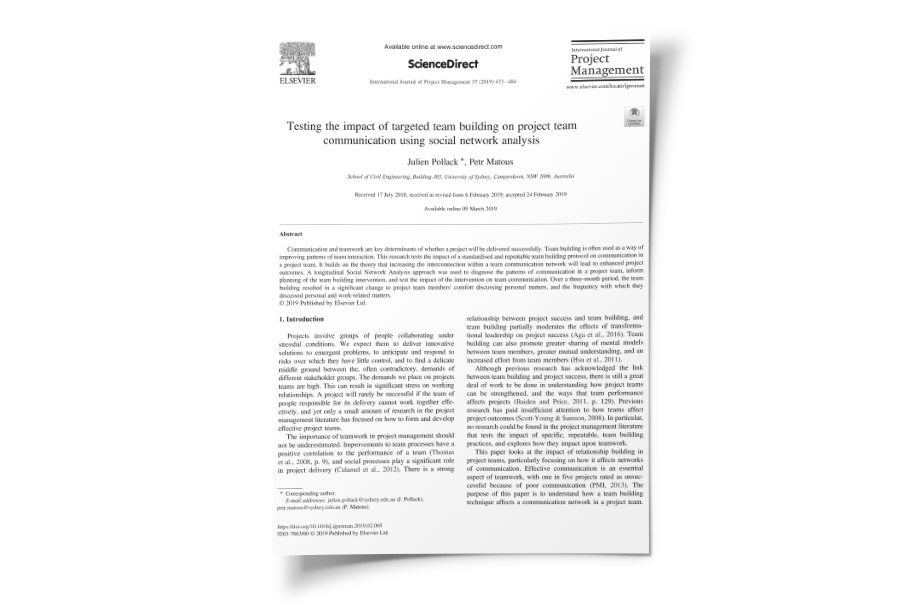 Authors:
Julien Pollack, Petr Matous
Journal:
International Journal of Project Management, Volume 37, Issue 3 (April, 2019)
Read:
https://doi.org/10.1016/j.ijproman.2019.02.005
Share:
Engage:
Comments
No comments to show.