Preparing for Successful Collaborative Contracts
Abstract

Preparing well before entering a contract is always vital, independent of the characteristics of the project and type of contract. However, as projects become larger and more complex, and value for stakeholders and society becomes the dominating perspective on success, the need for well-developed collaboration is becoming more and more critical. In this paper, we investigate how the parties should prepare for a collaborative project. The purpose is to help owners secure the success of the project for its key stakeholders. We choose to address the issues as an active risk mitigation strategy that serves as a vehicle to reduce uncertainty, avoid unnecessary risks, and utilize opportunities as a project owner. We look at the project mainly through a project owner perspective, but on key points, we contrast this with contractor perspectives. The research was performed in Australia in 2020 and includes public and private sector investment projects. The methodology is qualitative case studies and includes primarily in-depth interviews supplemented with document studies and two workshop group discussions. The paper highlights the difference between being collaborative in a contract and using a collaborative contract. The results document significant differences in preparations depending on the degree of complexity of the projects. One major difference is illustrated in the different levels of precision in terms and definitions used in communication. Complex projects require freedom of interpretation only gained by allowing wide and less precise expressions.
Potential Industry Impact

Gives guidance to those entering into collaborative contracts so trust can be established early between partners.
Academic Impact

An area where industry and government are actively pursuing opportunities.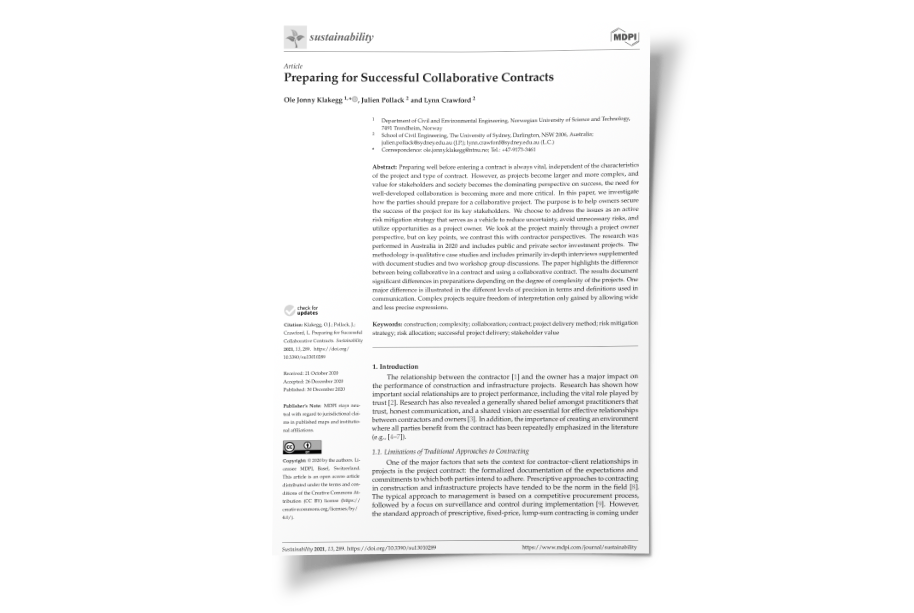 Authors:
Ole Jonny Klakegg, Julien Pollack, Lynn Crawford
Journal:
Sustainability, Volume 13, Issue 1 (December, 2021)
Read:
https://doi.org/10.3390/su13010289
Share:
Engage:
Comments
No comments to show.