Power relations in the finance of infrastructure public-private partnership projects
Abstract

This research investigates the impact of project finance on the ability of Special Purpose Vehicles (SPVs) to deliver infrastructure Public Private Partnership (PPP) projects. The research reports on data that was collected through 46 in-depth interviews with senior executive practitioners involved in PPPs in Australia. Analysis of this data confirms that while SPVs are integral vehicles for PPP integration, organizational power dynamics can generate tensions that restrict SPVs' ability to manage PPP delivery effectively. Control of the key resource of capital, by debt and equity investors, is central in SPV power plays. Improved understanding of power dynamics will help PPPs better achieve benefits through reforms that enhance managerial agency and develop stronger social and system integration, enabling better alignment of the interests of key stakeholders.
Potential Industry Impact

Uncovers the power dynamics that stop SPVs working as effective systems integrators – thus limiting the effectiveness of PPP projects.

Provides advice to those designing PPV contracts about the power dynamics before they become a problem.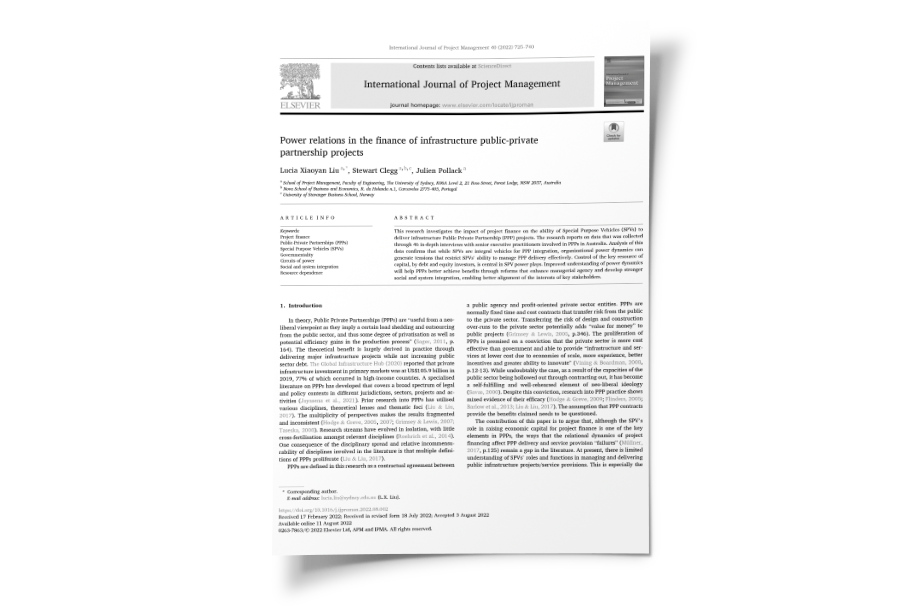 Authors:
Lucia Xiaoya Liu, Stewart Clegg, Julien Pollack
Journal:
International Journal of Project Management, Volume 40, Issue 7 (October, 2022)
Read:
https://doi.org/10.1016/j.ijproman.2022.08.002
Share:
Engage:
Comments
No comments to show.