Mapping diversity and inclusion in student societies: A social network perspective
Abstract

Diversity in higher education is associated with positive personal, societal and educational outcomes. These benefits are best achieved when diverse groups are engaged in meaningful interactions through formal and informal activities. While measuring student diversity by analyzing the proportions of students of different nationalities and ethnic backgrounds in the enrolment statistics is easily done, examining whether these diverse groups interact outside of compulsory activities in the classroom is significantly more challenging. The purpose of this research is to apply social network analysis to map students' social activities. Using large-scale data on students' participation in social events at a major public university, we illustrate how to use social network analysis to visualize the social fabric of the student body as a whole and to explore the interwoven and isolated social clusters at the core and the periphery of students' extracurricular activities. We explain how such findings can be used to inform university policies aimed at increasing social inclusion.
Potential Industry Impact

Social network mapping of social inclusion to inform policy.
Academic Impact

Network analysis of unique large-scale offline data.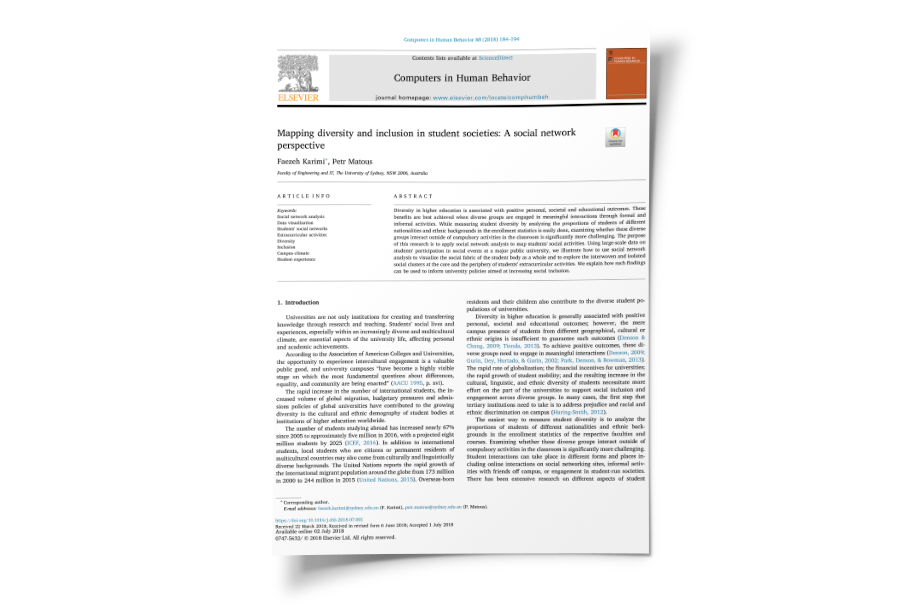 Authors:
Faezeh Karimi, Petr Matous
Journal:
Computers in Human Behavior, Volume 88 (November, 2018)
Read:
https://doi.org/10.1016/j.chb.2018.07.001
Share:
Engage:
Comments
No comments to show.