Limitations of Technical Approaches to Transport Planning Practice in Two Cases: Social Issues as a Critical Component of Urban Projects
Abstract

Technical transport models are commonly relied upon in planning practice for the development of urban rail infrastructure projects. By considering the assessment and management of social impacts in the planning and decision-making of two rail megaprojects (the North-South Metro line in Amsterdam, the Netherlands, and the Parramatta Rail Link in Sydney, Australia), we found that technical approaches continued to overlook social impacts, and had an overemphasis on economic and engineering considerations. We conclude that good practice Social Impact Assessment (SIA) offers opportunities to better consider social issues as a critical component of transport projects.
Potential Industry Impact

Inform reform for feasibility assessments and business case development.

Critique of transport planning appraisal methods.

Driver for policy change in project planning processes.
Academic Impact

Connects transport planning with social geography literature.

One of few papers about the social impacts of transport.

Adds to literature regarding critiques of Cost-Benefit Analysis and quantitative approaches to assessment.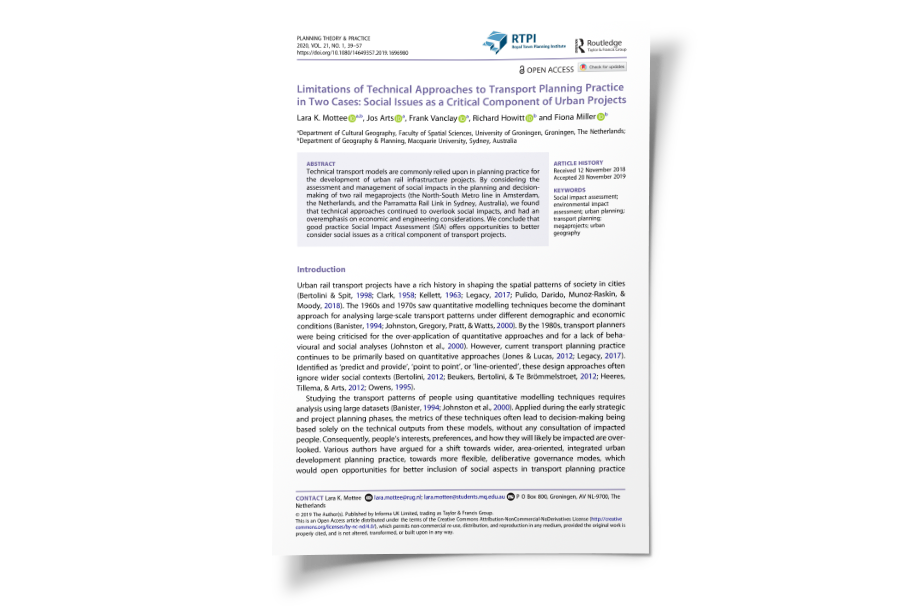 Authors:
Lara Mottee, Jos Arts, Frank Vanclay, Richard Howitt, Fiona Miller
Journal:
Planning Theory & Practice, Volume 21, Issue 1 (2020)
Read:
https://doi.org/10.1080/14649357.2019.1696980
Share:
Engage:
Comments
No comments to show.