Knowledge Evolution and Scholarly Quantification of Collaborative Research in Project Management
Abstract

Both as professional means of business and organisational success and growth and as an area of research, project management has been expanded not only to various sectors, industries and organisations but also across regional and international boundaries. Since the knowledge and practices of project management vary across industries, application areas and regions, collaboration among scholars and practitioners in project management research that transcend regional borders can simultaneously yield scholarly competence and contribute towards knowledge evolution. Similarly, this type of collaboration can provide them access to over a wide range of research datasets, trends, techniques, knowledgebase and methodologies enabling greater exchange of knowledge, innovation and research excellence. Both the economic imperative demands and enrichment of individual's command of resources and techniques to address increasingly interdisciplinary research issues in project management have triggered an upsurge in intra- and inter-country collaborative research trends. To date, the most obvious measurement of international collaboration is quantified from the metadata available in research publications by using methods provided in bibliometrics. Using this meta-information (e.g., affiliations and keywords), accompanying scholarly publications in digital libraries, and bibliometric approach, this study attempted to understand and quantify the research competencies and contributions of different types of collaborative research, topical knowledge evolution, trends of both local and global collaborations, and their impact on research outcomes in project management research.
Potential Industry Impact

How does various PM knowledge (captured through keywords) evolve over time?

Develop measures to quantify different PM collaborative efforts.
Academic Impact

Propose a study framework that can be applied in any other fields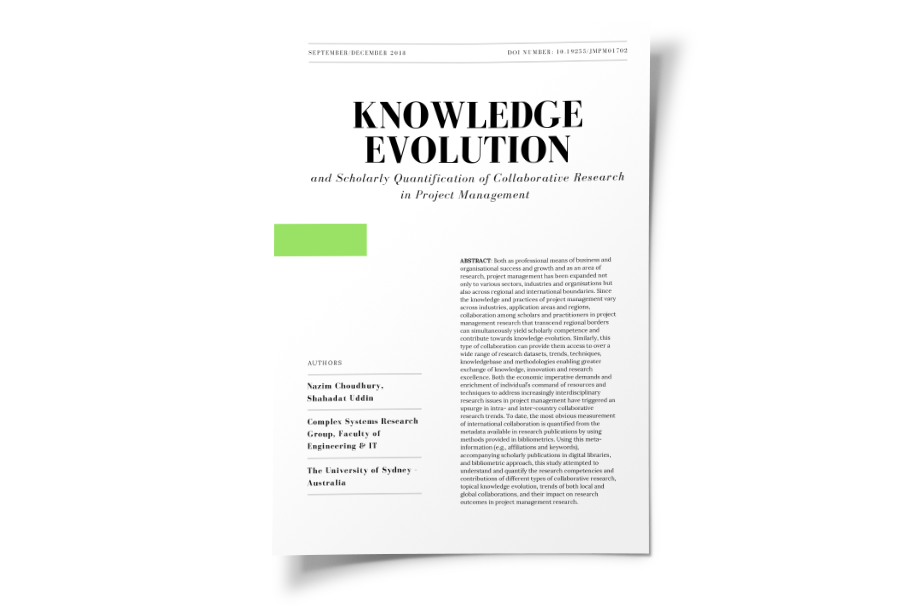 Authors:
Nazim Choudhury, Shahadat Uddin
Journal:
The Journal of Modern Project Management, Volume 6, Issue 2 (September, 2018)
Read:
https://journalmodernpm.com/index.php/jmpm/article/view/JMPM01701
Share:
Engage:
Comments
No comments to show.