Effectiveness of gender equality initiatives in project-based organizations in Australia
Abstract

Little is known about the impact of workplace gender equality initiatives in improving women's representation. We assess their effectiveness on levels of women's representation in Australian property and mining organizations. Derived from signaling theory, we propose and test a positive relationship between gender equality initiatives and women's representation at management and non-management levels. Derived from contingency theory, we propose and test the moderating effect of women in top management teams on the abovementioned relationships. The hypotheses were tested using archival data from 358 organizations with a 2-year time lag. The findings partially support the main and moderating effect hypotheses. We discuss theoretical, research, and practical implications.
Potential Industry Impact

By focusing on implementing work–life initiatives, organizations can improve their gender-representation outcomes.

Study shows that providing work–life initiatives together with having women in the top management team can help organizations achieve women's increased representation in management. Gender-diverse top management teams enable organizations to attract more women to management roles, leading to a reduction of vertical segregation by gender and contributing to an improvement in organizational productivity and competitiveness.
Academic Impact

Study found a positive impact of work–life initiatives on women's representation across management and non-management organisational levels.

It supports the claim that testable predictions can be derived from signaling theory. It also supports the integration of signaling theory with contingency theory to propose the process through which gender equality initiatives affect women's representation.

The study addresses important research gaps in the field of gender equality and women's representation in project-based organisations and may be the first study providing empirical evidence on the effectiveness of gender equality initiatives on women's representation in traditionally male-dominated industries.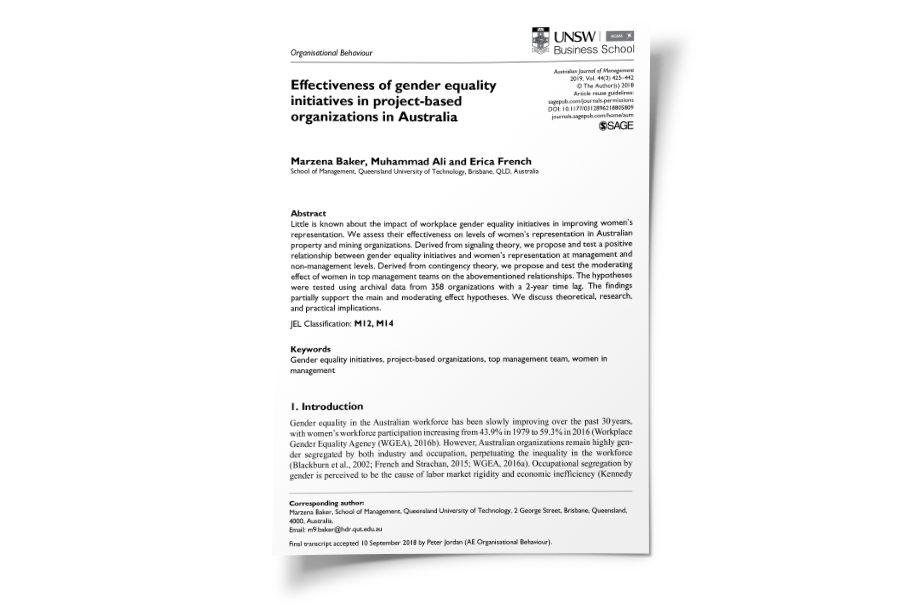 Authors:
Marzena Baker, Muhammad Ali, Erica French
Journal:

Australian Journal of Management, Volume 44, Issue 3 (August, 2019)
Read:
https://doi.org/10.1177/0312896218805809
Share:
Engage:
Comments
No comments to show.