Data Science and Artificial Intelligence in Project Management: The Past, Present and Future
Abstract

The contemporary landscape of Project Management is continually morphing as a response to the changing demands as well as the developing technology available. This article discusses and uncovers the current state of Data Science and Artificial Intelligence in relation to the Project Management sector. Drawing from this context, the possible future applications and uses are then delineated. Several trends are identified, and the overall findings are synthesised to provide a realistic impression of what the future topography of Project Management holds. The increasingly sophisticated applications of technology will assist in streamlining current industry-standard procedures.
Potential Industry Impact

Explore past and present applications of data science and AI in PM contexts.

Discuss their (Data science and AI) future possible application areas.
Academic Impact

Can understand the trend of Data Science and AI usage.

Help potential students in selecting relevant Data science and AI topics for their future research.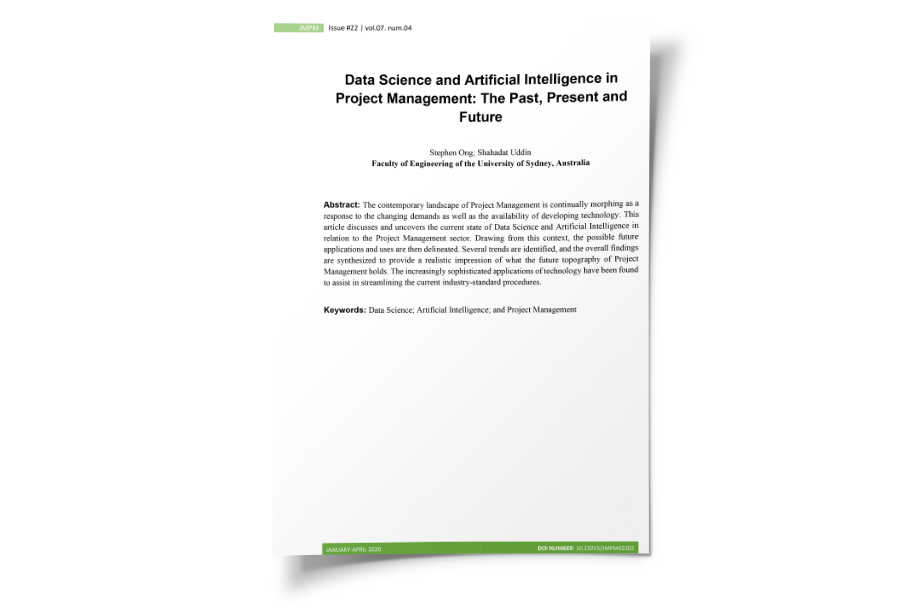 Authors:
Stephen Ong, Shahadat Uddin
Journal:
The Journal of Modern Project Management, Volume 7, Issue 4 (2020)
Read:
https://journalmodernpm.com/index.php/jmpm/article/view/JMPM02202
Share:
Engage:
Comments
No comments to show.