A social network framework for stakeholder engagement analysis
Synopsis

In this paper, we develop a social network–based framework for the analysis of stakeholder engagement relationships. We demonstrate that senior stakeholders identified by traditional models such as the Salience Model are not necessarily "commanders," as shown by the social network model, as far as engagement (operationalized as "problem solving") is concerned. We discuss several implications of our model at the theoretical level for contribution to project management science and at the practical level for the application of the model.
Potential Industry Impact

Improved understanding and visualisation of informal power of network of stakeholders.

Allows for understanding of stakeholder influence.

Provides useful insights for developing stakeholder-centric engagement strategies.

Easily applicable for stakeholder analysis via social media.
Academic Impact

Development of framework based on social network theory and methodology for stakeholder engagement.

Insight into traditional project stakeholder models compared against social network models.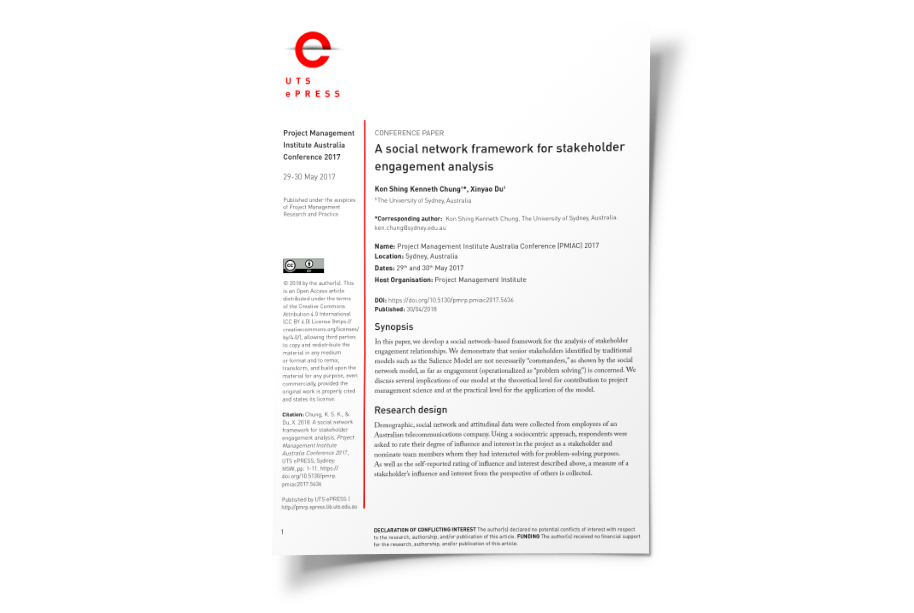 Authors:
Kon Shing Kenneth Chung, Xinyao Du
Book:
Project Management Institute Australia, (ed.), PMI Australia Conference 2017
Read:
https://doi.org/10.5130/pmrp.pmiac2017.5636
Share:
Engage:
Comments
No comments to show.