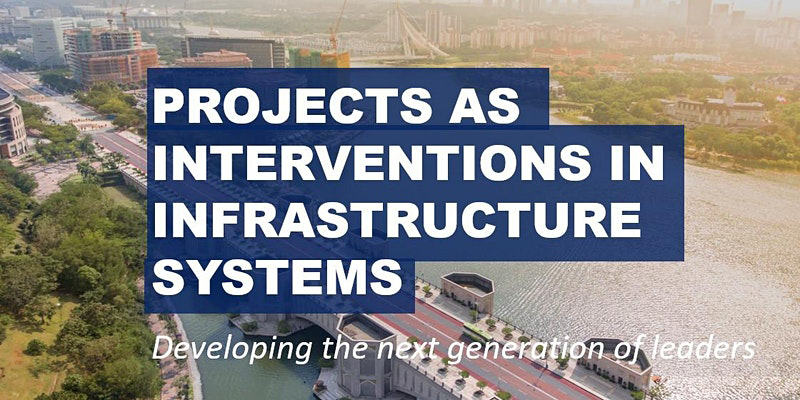 21 June 2022
There is significant work being done at national and international level to transform the way decisions are made about the built environment. This requires different understanding from owners, sponsors and government, and from professionals involved in project conception, set-up, design, delivery and hand-over into operations. The challenge is now to implement this policy, to transform understanding of what projects are, and how they deliver value. This is vitally important in a world of significant uncertainty and complexity arising in the context of rapidly changing technologies, growing recognition of stakeholders, and changing weather and climate. There is the potential to draw on the research base to rapidly transform in order to reduce infrastructure and industry's carbon and other environmental footprints and achieve resilience in complex systems.
We are not in a 'business as usual world' — in the midst of a climate emergency and a pandemic, with recent floods, bushfires, storms, and parts of the globe experiencing war. Projects intervene into this world, and shape its futures. This workshop enabled participants to develop their leadership skills to implement projects as interventions into wider systems. It covered:
• Fundamentals of understanding projects as interventions into systems of systems.
• Situating infrastructure in the context of (changing) natural environments, with 'projects for resilience' rather than resilience in projects.
• The need for projects to be seen as interventions to achieve social, economic and environmental outcomes in a changing world, rather than being siloed asset delivery.
• The role of owners, sponsors and government in enabling projects to be understood as interventions.
• The policy context for infrastructure transitions, and practical examples from industry and research.
Drawing on the expertise of two internationally leading centres of excellence, the John Grill Institute for Project Leadership and the Centre for Systems Engineering and Innovation, it also provided an opportunity to discuss international collaboration and the role the international research base can play in providing the evidence for what works.
Speakers

Dr Ana Mijic, Centre for Systems Engineering and Innovation, Imperial College London

Dr Ana Mijic is a Reader in Water Systems Integration and Director of the Centre for Systems Engineering and Innovation (CSEI). She is leading the development of novel systems tools focused on quantifying the interaction between water systems and sustainable development. Through NERC Innovation Fellowship funding, she worked with the UK Environment Agency to apply systems thinking and systemic approaches to developing principles of systems water management at a catchment scale. She has led the CHANSE project on systems water management and irrigation water use in India.

Currently, Ana is leading VENTURA, an EPSRC-funded project to co-create a state-of-the-art web-based, end-user led digital service prototype in a form of a Virtual Decision Room (VDR).

Ana is also a Systems Analysis Lead for the CAMELLIA impact programme, where her work is focused on the development of systems water management models that can represent the integrated water infrastructure planning system, and how grey and Blue-Green infrastructure solutions can be integrated with land use planning and housing design. Models can used to inform design and operations of water infrastructure systems and test environmental regulation under climate change uncertainty in the context of NZI. Ana is also a member of the EWRE Hydrology group that was awarded the 2019 Imperial President's Award for Excellence in Research for Outstanding Research Team.

In April 2022 Ana was awarded the prestigious Satish Dhawan Visiting Chair Professorship to spend time at the Indian Institute of Science (IISc) Bangalore to teach and work with academics within the Institute on systems approaches to water management in India.

Professor Jennifer Whyte, Head of School of Project Management, Director of the John Grill Institute of Project Leadership

Jennifer Whyte is Director of the John Grill Institute for Project Leadership and Head of School of Project Management, in the Faculty of Engineering at the University of Sydney (2021-).
She retains a position at Imperial College London, where she was Director of the Centre for Systems Engineering and Innovation, and the Royal Academy of Engineering and Laing O'Rourke Professor of Systems Integration in the Department of Civil and Environmental Engineering (2015-2021), and she retains an affiliation. At Stanford University (2015), she was Shimizu Visiting Professor in the Civil and Environmental Engineering Department. Her first degree is from University of Cambridge and her PhD from Loughborough University. She did postdoctoral research at SPRU, University of Sussex, and Imperial College London.

Her research has led to extensive work with industry and policy. She co-curated the World Economic Forum (WEF) 'Engineering and Construction' Transformation Map (2016-2019). She is on the a Senior Advisory Group (2021-) of the UK's Construction Leadership Council (2019-2021). She sits on the UK's EPSRC Engineering Strategic Advisory Team; is a Board Member of the ICSF 'Transforming Construction' Advisory Board; and previously sat on the MHCLG Building Safely Committee (2018-2019). She has worked with Singapore's Building and Construction Authority to deliver Singapore's Integrated Digital Delivery strategy, draw on her research to train more than 100 senior executives.

Maud de Vautibault, Global Infrastructure Hub

Maud de Vautibault is a senior infrastructure policy and legal advisor with over 18 years of experience in France both in the public and private sectors, in governmental frameworks and the procurement, execution and implementation of quality infrastructure projects.

She joined the Global Infrastructure Hub in January 2019 under a cooperation agreement with the French Treasury where she had worked for the previous four years as a Project Manager and Head of Legal Affairs at the Infrastructure Finance and PPPs Unit. During her time in the Ministry of Finance, she developed advanced expertise in procurement policy and prior assessment analysis, focusing on advising the public procurement authorities on the best contractual options between concession, traditional public procurement and PPP contractual structures.

Maud worked on various concessions projects under a civil law system, including most recently on the €2,3bn refinancing of the Paris-Bordeaux High Speed Rail (with a French State Guarantee) and a major light rail project in SubSaharan Africa. Prior to that, Maud worked as an in-house legal advisor at Bouygues, a worldwide infrastructure contractor, where she was in charge of leading the contractual documentation for a large panel of infrastructure projects from the inception to the closing, with a focus on social infrastructure buildings under partnerships contracts (including public buildings, universities, court of justice…).

Maud has also served on various boards of directors representing the Ministry of Finance in State owned Public Infrastructure establishments. She holds a Masters Degree in Public Economic Law from University of Paris Pantheon Assas.

Peter Colacino Infrastructure Australia

Peter Colacino is one of the leading voices in Australian infrastructure. He is responsible for driving Infrastructure Australia's transformative policy and research agenda across sustainability, resilience, place-making, industry productivity and infrastructure planning.

An accomplished leader with experience in strategy, policy and corporate affairs. Peter has held senior roles across politics, industry and government, including within some the world's largest infrastructure operators – Keolis Downer and Transurban.

As Chief of Policy & Research at Infrastructure Australia, Peter led delivery of the landmark 2021 Australian Infrastructure Plan, 2019 Australian Infrastructure Audit and the inaugural Market Capacity Program. Prior to that he was Executive General Manager of Growth and Partnerships at the NRMA.

Andrew McNaughton, ICE

Andrew recently joined Aczel as a Partner. Aczel is a consultancy specialising in strategic change management and complex project delivery across multiple sectors

From June 2016 Andrew served as Chief Operating Officer of the Systra Group, a French headquartered company with 7000 staff, globally, specialising in transport engineering and consultancy services. Andrew was previously Director of Engineering and Construction for Tidal Lagoon Swansea Bay Plc.

Andrew has over 35 years' experience of delivering major infrastructure in the UK and overseas. As both a project manager and an executive officer he has been responsible for the delivery of many of the country's major infrastructure projects over that time

Prior to his appointment at Tidal Lagoon, Andrew was the Chief Executive Officer of Balfour Beatty plc. He held a range of executive positions in his 17 years at Balfour Beatty, including Chief Operating Officer and latterly Chief Executive Officer. From graduation he initially spent 12 years with the Kier Group, a period that included his involvement in the construction of Sizewell B nuclear power station

Andrew is a Fellow of the Royal Academy of Engineering. He has served as a Vice President of the Institution of Civil Engineers (ICE) and was previously named Civil Engineering Manager of the Year by the Institution. In 2020, Andrew led a study on behalf of the ICE into the performance of infrastructure project delivery that led to a report. Welcomed across the industry, defining a Systems Approach to Infrastructure Delivery

In July 2021, Andrew was appointed as a Non-Executive Director of the newly formed Board of AWE Plc, with specific responsibility for the infrastructure investment programme to support the current and future delivery requirements of the organisation.

In December, Andrew was appointed as a Non-Executive Director of Sheffield Forgemasters Ltd, with specific responsibilities for the investments in new infrastructure and equipment by MoD to support future at sea capability.

Dr Lara Mottee, University of Sydney

Lara Katharine Mottee is a postdoctoral researcher at the John Grill Institute for Project leadership and former Environmental and Social Impact Assessment (SIA) consultant. She has worked with the private and government sectors providing specialist social and environmental management advice for transport, water and energy infrastructure projects. Her previous research investigated urban planning and social impact assessment and management practices in Sydney (Australia) and Amsterdam (The Netherlands). Her current research is focused on improving project leadership practices and knowledge sharing between infrastructure megaproject ecologies in the Greater Sydney.

Dale Evans, Project 13

Chair of the Project 13 Network and with over thirty years' experience in infrastructure delivery, asset management, operational management and change management. Chair of Infrastructure Client Group (ICG), leading the development of a progressive approach and work programme. Member of Executive Steering Group for Project 13; a New Delivery Model for Infrastructure.

As ICG member, led a number of influential work streams, including Alliancing Best Practice (2014) and Alliancing Code of Practice (2015). Responsible for overall leadership and management of the @one Alliance, a progressive and collaborative model for delivery of the Anglian Water investment programme.

Leading all aspects of Alliance strategy and operation. Consistently delivering significant efficiency savings, out-performing all financial, service and sustainability targets and providing positive returns for Alliance partners with turnover £750m pa., 5.8 million customers. Management of a £1.7bn 5-year investment programme over 15 years.

David Gainsford, Deputy Secretary Development Assessment, NSW Dept of Planning and Environment

As head of the Development Assessment Division, David and the division are responsible for assessing State Significant Project Development Applications for all major projects within New South Wales, Australia. This assessment is a statutory process, undertaken independently on behalf of the NSW State Government.

Some of the projects assessed include major infrastructure projects, high-profile commercial developments and key resource developments across the State. Along with leading these assessments, the Division also has analytical and performance-monitoring arms, which ensure the process of assessment is high quality, timely and meets key government KPIs. Additionally, for approved projects the Division also has a regulatory compliance role, ensuring they operate in line with their requirements.

David has more than 25 years' experience in Environmental Impact Assessment and major project development working in both the private and public sectors. David guest lectures at the University of New South Wales for graduate students in Sustainable Infrastructure. He has a Bachelor Degree in Applied Science and Masters in Urban and Regional Planning both with Honours and is a Graduate of the Australian Institute of Company Directors.

David Ballantyne, PWC Australia

David is a Partner in the Integrated Infrastructure business and is responsible for leading the asset management initiatives across Australia with PwC. He has more than 20 years' experience in major infrastructure projects, across all phases of the asset life cycle. He has led the development and implementation of asset management change programs for policy compliance and overseen annual capital expenditure programs including business case development, assurance reviews and project delivery.

Mark Enzer, Mott MacDonald

Mark Enzer OBE, Head of the National Digital Twin programme at the Centre for Digital Built Britain and Chief Technical Officer of Mott MacDonald.

Mark is a keen champion of innovation in the context of collaborative delivery models and he is particularly interested in the transformation of the infrastructure industry, including: systems-thinking, digital transformation, connected digital twins, data infrastructure, low-carbon sustainable solutions and the circular economy in the built environment.

As the Head of the National Digital Twin programme within the Centre for Digital Built Britain, Mark is contributing to the leadership of this ambitious programme to enable an ecosystem of connected digital twins across the built environment. In addition, he is a co-chair of the Construction Leadership Council's Digital Network and he is the Digital Transformation workstream lead for the Infrastructure Client Group, which represents the UK's major infrastructure client organisations. Mark was the Lead Author of the Infrastructure Carbon Review, published by HM Treasury.

Dr Chris Millard, Laing O'Rourke

Following University, Chris joined Jaguar as an apprentice, subsequently holding executive product development and manufacturing roles with Rover, Land Rover and BMW Group.

He moved into construction in 2004, joining BAA Heathrow as Head of Engineering for the £4.3bn Heathrow T5 programme, leading the application of Systems Engineering to deliver technical integrity and system performance. He joined Balfour Beatty in 2011 to lead completion of the London 2012 Aquatics Centre and as South West Regional MD.

With Laing O'Rourke since 2016, Chris leads the Technology &Innovation Group in Europe, continuing LOR's transformation of the construction industry, driving product, process and manufacturing solutions that safely deliver certainty, productivity, and carbon reduction.
Agenda

9am BST/6pm AEST Welcome and introductions

Dr Ana Mijic, Centre for Systems Engineering and Innovation, Imperial College London; Professor Jennifer Whyte, Head of School of Project Management, Director of the John Grill Institute of Project Leadership

– Why projects as interventions?

– Brief overview and pointers to research landscape


9.15-9.35am BST/ 6.15-6.35pm AEST Panel Discussion on Global Policy Context – Chaired by Professor Jennifer Whyte, University of Sydney

Maud de Vautibault, Global Infrastructure Hub, Peter Colacino Infrastructure Australia, Andrew McNaughton, ICE

– From policy documents to practice – envisioned challenges

– How the international research community can support these agendas


9.35-9.55am BST/ 6.35-6.55pm AEST Panel Discussion on Project Sponsorship and Delivery – Chaired by Andrew McNaughton

Dr Lara Mottee, University of Sydney, Dale Evans, Project 13, David Ballantyne, Partner from PWC Australia – Integrated Infrastructure Practice, David Gainsford, Deputy Secretary Development Assessment – NSW Dept of Planning and Environment

– From policy and research to practice – envisioned challenges

– Early engagement – what are the key decisions to make at the start of a project

– Role of stakeholders

– Leadership model – how it needs to change to deliver desired outcomes

– How the international research community can support these agendas


9.55-10.25am BST/ 6.55-7.25 pm AEST Bringing together Policy, Practice and Research – Chaired by Dr Ana Mijic

Mark Enzer, Mott MacDonald, Dr Chris Millard, Laing O'Rourke, Professor Jennifer Whyte

– What data policy makers and practitioners need to make better decisions

– What are the mechanisms that can support shaping research agendas and high-impact research on projects as interventions?

10.25-10.30am BST/ 7.25-7.30pm AEST Closing remarks from the Chairs and next steps